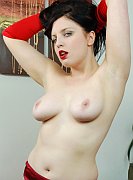 Well, here she is. The 'sweet and innocent' girl at the centre of what has turned into a political shitstorm, with the Prime Minister of England calling for the left testicles of funnymen Jonathon Ross and Russell Brand. Please note, we use the term 'funny' in regard to Russell Brand with tongues in cheek.
Turns out the granddaughter of actor Andrew Sachs, who starred as Spanish waiter Manuel in the classic comedy Fawlty Towers (John Cleese, Prunella Scales, Connie Booth), managed to get herself banged by serial shagger Russell Brand, and the doting granddad Sachs was the subject of a mocking answerphone message left by Ross and Brand, in which Ross blurted out that Brand had fucked your granddaughter. The pair then went on to joke about how the news would probably drive Sachs to suicide, and offered to wank him off to make amends.
Lo and behold, Georgina Baillie steps up to offer her views on how she has been mistreated, and has had her reputation tarnished. We rather think that her extremely racy Porn Site Pictures And Movies had already secured that particular event.